Holz Consulting GmbH | Management Consulting - Personnel Development | Europaplatz 2 | D - 72072 Tübingen | Germany
Tel.: +49 (0) 70 71 / 79 52 85 0 | Fax.:+49 (0) 70 71 / 79 52 85 99 | Mail: info@holz-consulting.de
Route directions
When coming from Stuttgart airport:
Drive along the B27 in the direction of Tübingen. When you reach Tübingen, take the "Zentrum" exit in the direction of Stadtmitte / Herrenberg. Stay on the four-lane road, passing the railway station on your right until you are 200 m ahead of a tunnel and then turn right towards the railway station. At the traffic light, turn left towards the railway station.
Approx. 30 m after the railway station building, turn left onto Europaplatz and follow the road to the entrance to the underground car park directly next to the post office.
Directions to Tübingen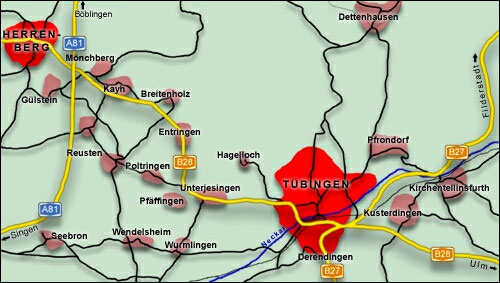 Directions in Tübingen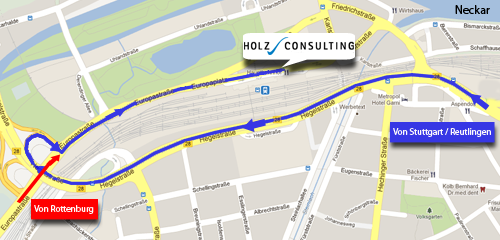 Outside view of the office