People identify with goals that make them feel that they are doing something useful and are creating value. It is important to them that their personal interests and the interests of their organisation should overlap, so that both will benefit. We clarify expectations, conflicts and opportunities, thus reinforcing this identification.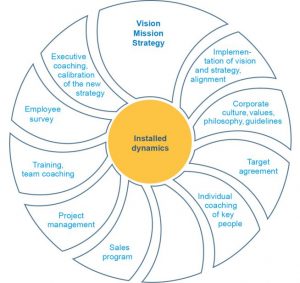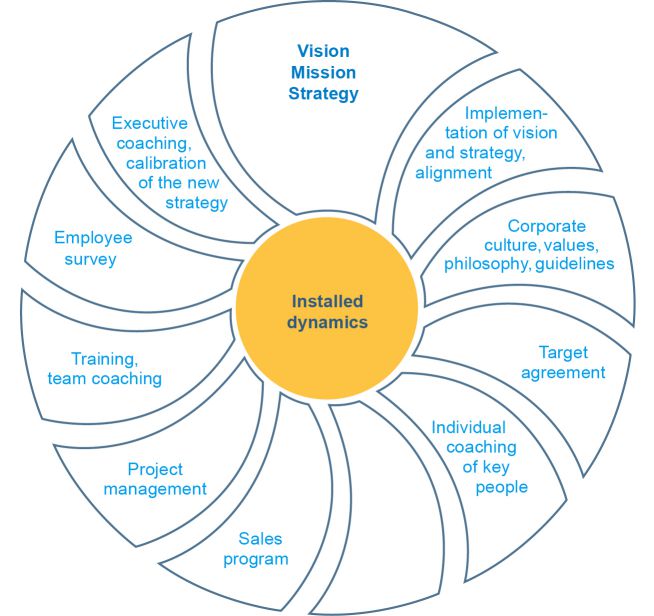 We design projects in strategic, organisational and personal development, where the dynamics are based on the forces of interlinked and consistent elements.
Based on potential analyses, we run team coaching, individual coaching and individual training activities.
We have coordinated staff and organisational development products.
We make use of the complementary views of our consultants to provide high-level, undogmatic collaboration.
We achieve a material, sustainable benefit through constructive and inspiring discussions with our customers.
We have over 25 years of experience in collaborating with organisations in industry, banking, trade, public administration and the non-profit sector.
We plan and implement your development projects.
Holz Consulting GmbH | Management Consulting - Personnel Development | Europaplatz 2
D - 72072 Tübingen | Germany
Tel.: +49 (0) 70 71 / 79 52 85 0 | Fax.:+49 (0) 70 71 / 79 52 85 99
Mail: info(at)holz-consulting.de
Route directions
Drive along the B27 in the direction of Tübingen. When you reach Tübingen, take the "Zentrum" exit in the direction of Stadtmitte / Herrenberg. Stay on the four-lane road, passing the railway station on your right until you are 200 m ahead of a tunnel and then turn right towards the railway station. At the traffic light, turn left towards the railway station.
Approx. 30 m after the railway station building, turn left onto Europaplatz and follow the road to the entrance to the underground car park directly next to the post office.
Daimler AG
Getrag Getriebe- und Zahnradfabrik Hermann Hagenmeyer GmbH & Cie KG
Hengst GmbH & Co. KG
Schmitz Cargobull AG
Erwin Hymer Group SE
FAUN Umwelttechnik GmbH & Co.KG
Meyer Werft GmbH & Co.KG
GETRAG B.V. & Co. KG
fischerwerke GmbH & Co. KG
Reinert Kunststofftechnik GmbH & Co.KG
Kölle GmbH
Gutekunst GmbH
Coindu-componentes P/ Indústria Automóvel,SA