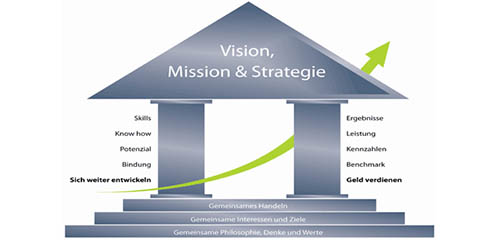 Competence development means "good housekeeping". The idea is to ensure that further development takes place while at the same time creating the right preconditions for improving performance figures.
Both of these, i.e. the development of skills and performance, are equally important: too much focus on a single aspect can quickly lead to the others going wrong.
The aim is to promote key qualifications by developing competence models.
Your needs
Do you want to develop the skills and competences of your managers?
Do you want to train employees to be managers?
Do you want to teach specific skills systematically?
The learning concept during training courses
Confrontation with models and "rational - emotional maps"
The aim is to allow participants to discover their own experiences in these "maps" and to reflect on them, quickly helping them find their way, to their own satisfaction. This is all about the use of transparent and directly applicable models.
Ideological freedom
The idea is not to convey a doctrine or "management by" concept to believe in, but to allow the participants to appraise the concepts critically and to test their effect in practice.
Experiential learning
The programme makes use of exercises, video examples, simulation situations and test systems to explain all elements in a practical way. Each participant benefits from the concrete experiences and constructive feedback of the other participants.
Implementation discussion
Each module makes provision for discussing the participants' experiences with applying the methods learned in their concrete context, providing specific recommendations for the further procedure to be followed.
Documentation
All course elements are covered by the extensive written study materials.
Understanding management
Managerial principles
FManagerial acceptance via
Managing from the heart
Strong management
Systematic management

Competence
Knowledge
Ability to create structure

Value-based management

Clear maintenance of values/li>
Positive design of corporate culture
Accepted guidelines

Managing with ideas and charisma

Creativity
Intuition
Charisma

Managing by role model

Personal example
Intellectual horizon
Strategic thinking
Management, guidance, leadership: directions of development
Development by acquisition

Development by letting go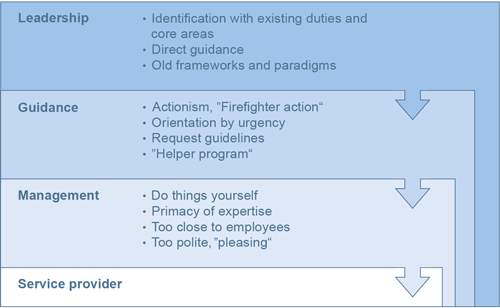 The programmes
Basic management programme
Aimed at new managers within the organisation, offering a sound and systematic introduction to managerial topics
Guidance and leadership development programme
Provides the opportunity to develop your own managerial skills on the basis of experience gained and to train procedures and techniques for handling difficult situations.
Specialisation programme
Serves to develop specific managerial skills in specific areas.
Provides the opportunity to develop and train specific target groups in the key factors.
Targets
As a "front line" to the customer, sales staff are required to influence the customer and to be successful, while on the other hand they are responsible for the stability of relations with the customer through their links and are able to pick up wishes, ideas and suggestions for innovations.
Sales staff are therefore required to demonstrate both momentum and sensitivity.
The sales training programme is intended to develop the strengths of experienced sales staff. They are to receive feedback about critical behaviour and new stimuli to add to the knowledge they already have.
New sales staff are trained in the most important techniques and further their personality development as part of the programme.

The individual programs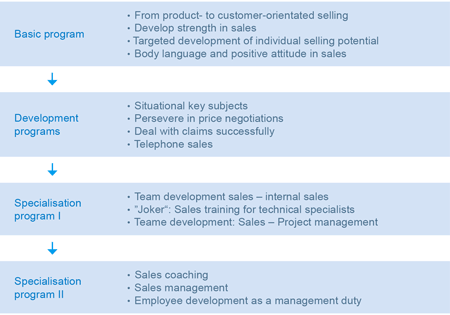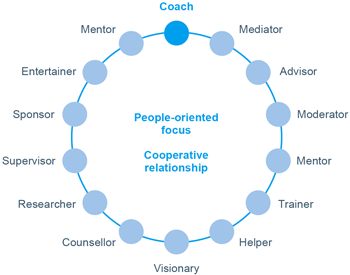 Coaching is a special advisory method that opens up entirely new opportunities for companies, managers, consultants and all clients. Quite often, coaching a client or a team is the vital element of a traditional consulting task. It is therefore particularly important and advantageous to develop their competence in the direction of this special form of intervention.
In many cases, coaching has turned out to be a key qualification for those with conflict-solving tasks. Coaching provides consultants with entirely new options, while legal experts extend their business base and managers decisively widen their sphere of influence.
The programmes