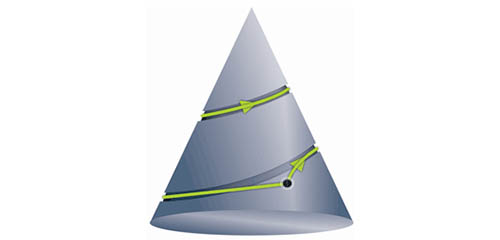 The road to the future requires course selections and course corrections. Course adjustments in turn require "paradigm flexibility" - the systematic revision of previous concepts. Course corrections lead forwards and upwards once again.
Your needs
Do you want to advance into new dimensions? Do you want to explore new routes?
Do you want to set the right course and provide the right guidelines?
Do you want to promote an innovative and motivating climate?
Our offer
Together with you, we will identify the special success factors of your company - based on the staff involved as well as the organisation.
We will support you through times of upheaval and crisis to find the beginnings of a new structure; to find new, successful processes by integrating new environmental conditions or innovations.
Starting point
It is essential for the development of a company to look "beyond the here-and-now" and to implement effective innovations - in products, in technology, in processes and in the corporate culture.
An important starting point is a situational assessment: Where do we stand? What should our future path look like?
The key task of the executive is therefore to specifically envision and design the desired organisational development.
This is intended to extend the existing "framework", create new spaces and develop various ideas into a clear vision of the future. A single vision that can generate desire, enthusiasm and strong emotional impulses.
A single mission makes it clear what we stand for and how we want to be seen.
Strategy involves decisions about the alignment of our forces, how they are to be bundled and focused. The strategy therefore includes commitment and sets priorities. Settling on a strategy ensures that activities take place in a coordinated manner.
A mission statement clarifies the basic values that determine operations. This clarification ensures a common understanding of the leadership principles.
Concept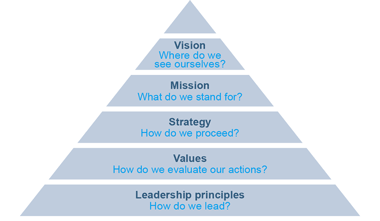 Strategy implementation
Strategy implementation is based on systematic specifications across the various levels.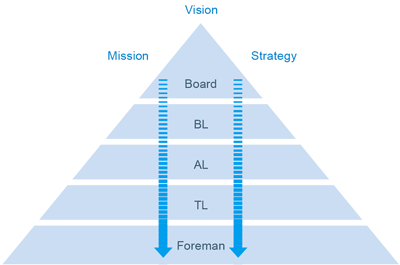 Targets
The importance of organising and coordinating joint action according to compatible guidelines and values increases as the complexity of the requirements demands increasingly fast, flexible responses.
The aim is to use a substantiated set of requirement guidelines to shape leadership behaviour and establish a clear leadership claim.
These guidelines then serve as a reference for practical leadership activities and form the basis for further leadership development.
To this end, desirable and undesirable behaviours in current leadership practice are to be examined and the criteria for expected leadership behaviour clarified.
The guidelines should include values as well as concepts for implementation at a practical level. Excessive and overly idealistic guidelines are counter-productive and should therefore be avoided.
All managers should be systematically integrated into the process.
Concept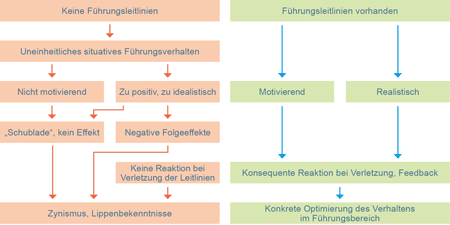 Targets
Target agreements have been established as an important element of the leadership process. They specify the strategy of the organisation on the one hand and establish divisional, departmental and staff-related agreements on change and optimisation processes on the other hand.
These processes work when the target philosophy and the system are supported by all leaders and the target agreement discussions are conducted in a professional manner.
Meaningful work with personal responsibility requires a clear agreement on qualitative and quantitative goals. The binding nature of these goals is to be clarified in discussions and the preconditions established for objectively and openly discussing the degree to which goals have been achieved in future.
Concept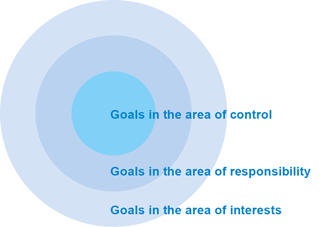 Control targets:
I can completely achieve them with my current resources and skills
Responsibility targets:
I cannot fully control their implementation, but they are part of my functional role
Targets of further interest:
Targets that are useful, although I cannot control their implementation and they do not directly form part of my functional role
Procedure "from target to implementation"
Good target formulations create the preconditions for successful action, as the phrasing allows people to identify with the target and thus motivates them.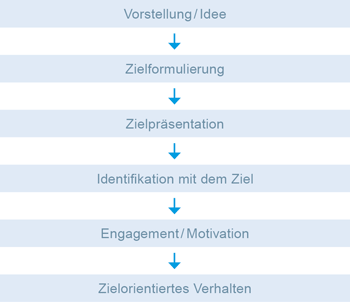 Building blocks
Workshop on "strategy implementation by target agreement"
Clarification of targets, tasks and projects
Clarification of the elements of the target agreement system
Training to "make and implement target agreements"
Training in "effectively conducting target agreement discussions"
Workshop on "target-orientated compensation systems"
Key situation: succession
Owner-managed medium-sized companies have shaped Germany. According to estimates, over 350,000 family-owned companies will face succession challenges within the next five years.
Of these, 85% aspire to succession within the family
Only approximately 50% of family-owned companies survive the transition from the first to the second generation.
Fewer than 10% manage to hand over to a third generation
The generational handover is therefore a key point in company development. However, the readiness to withdraw decreases with age, in spite of this insight.
Emotional ties
Emotional ties ("I have built up this company. It is a part of me that I now have to give up.") inhibit planned succession. The decision as to who will lead the company after retirement is postponed. A potential power and goal conflict between the generations can lead to difficult situations within the company and irritation among its customers.
The generational change requires an open and constructive debate between the generations that resolves emotional tensions, facilitates a new view of things and leads to further conciliation.
Concept
Successful development of the next leadership generation in family-owned companies involves long-term planning, advanced communication skills and the ability to take on many roles within the family and the company.
Each of the three systems - family, management, owner - has specific problems and specific development trends, but all of these depend on each other. Effective development of these systems is often rendered more difficult by a complex and emotional relationship structure.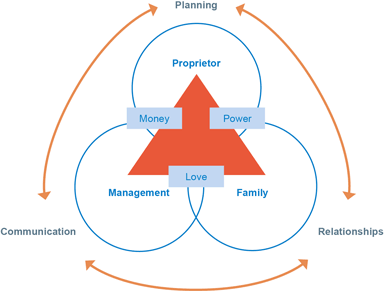 Procedure
Planning exactly how the company is handed over at family and management level is therefore an essential precondition for the success of a change process in family-owned companies.
In order to achieve effective management of conflicts and decision-making in transition phases, the projects
strategic business planning,
leadership development and
asset and financial planning
are therefore performed in parallel.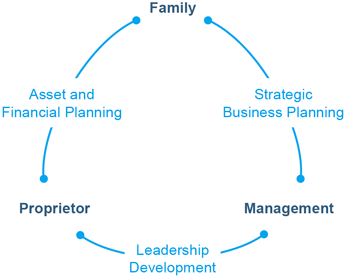 Starting point
The purchase and integration of companies and parts thereof have gained in strategic importance. The number and the value of transactions are bound to increase further.
At the same time, experience shows sobering results: approximately 60 to 80% of all mergers do not fulfil expectations. The potential synergies were too ambitious, the expected effects cannot be realised or the effects are reduced by the costs of integration.
The results would appear even more doubtful if one were to factor in the non-economic aspects of human capital, which do not appear on balance sheets but are the drivers of the financial capital market.
Causes
The reasons are varied:
(Too) high purchasing price, too high integration costs and subsequent cost reduction programmes
Cultural discrepancies: the more disparate the cultures, the higher the risks
Tensions and destructive internal competition
Indirect downgrading of key staff
Dominance of strategic aspects, downplaying of emotional issues
Controversy regarding compensation, job security, investments, overheads, site objectives
Irritation among customers and suppliers due to uncoordinated market alignment
Consequences:
Sabotage of cross-functional positions
High costs due to dual structures and parallel processes
Staff fluctuations, in particular of key staff
Loss of reputation among customers and suppliers
Declining job satisfaction
Reduced innovation potential
Procedures
Closer and more detailed investigation shows clear differences between types of integration:
A very reliable and successful process is
when a new company is created within the framework of a "best-of-both" strategy
Less successful is
symbiosis by partial integration as part of an expansion strategy or
absorption after full takeover as part of a completion strategy.
The concept of "installed dynamics"
Die Dynamik im Integrationsprozess beruht auf dem erzeugten Druck ineinander greifender stimmiger Elemente.
The dynamics in the integration process are based on the generated pressure of interlocking coherent elements.
The success factors alignment, coaching and team development are of particular importance here.