People identify with goals that make them feel that they are doing something useful and are creating value. It is important to them that their personal interests and the interests of their organisation should overlap, so that both will benefit. We clarify expectations, conflicts and opportunities, thus reinforcing this identification.
The world is never all bad and even undesirable conditions provide interesting opportunities. The understandable response to negative situations is to reject them, to suffer from them or to fight against them. By continuing to look and endure tensions and contradictions, it becomes possible jointly to gain a new and more complete overview of the situation, thus developing your own strength to master the situation.
Recognising limits creates further opportunities. A framework initially provides ways and procedures - but each paradigm and every framework has its limits. Our work is mainly based on recognising, drawing attention to and creating frameworks to open up new routes and interesting opportunities.
The opportunities for change and development are the same for organisations and individuals. Potential is waiting to be realised. Opportunities as yet hidden may become decisive in the medium and long term. We see our strength in applying our tools to determine and activate the potential of the organisation, its executives and its staff.
When structures and systems are consistent and purposeful, it is noticeable. This consistence has an aesthetic quality and is energising. The complexity can be reduced to basic patterns. If those basic patterns are right, meaning is created: for individuals this is charisma and for organisations it is uniqueness. We want to define and reinforce these repeating patterns thus rendering them effective in actions, structures and procedures.
In living systems, the whole is more than the sum of its parts. It is the functional and meaningful relationship to the whole that creates something new: a living, efficient unit. We perceive a team as an organism with rational and emotional demands that we support in its development.
The entire strength and potential of a person can be developed when the uniqueness of that person is recognised and appreciated. We therefore focus on what makes individuals special: on their motives, their particular quirks and special talents - and we help people to make use of these talents.
Our individual experience of reality can be conveyed by open communication that ideally conveys every single fact and emotion. The image of that reality thus becomes three-dimensional; it can be developed, while animated communication energises everyone involved. We provide nudges, impulses and positive provocation.
Ideologies, the exclusion of certain topics and taking a narrow perspective on the facts are nonsensical and risky if the goal is to render experiences visible and communicable. We therefore do not support a doctrine, a patent recipe or patent system, but work with rational and emotional "maps" that are easily grasped and can be verified by your personal experience.
We place high emphasis on naming problems and speaking plainly. We regard it as our task to render critical issues visible. We stand up for our views and make it clear how we feel. Our goal is to be an appreciated and inspiring sparring partner for organisational and personal development projects.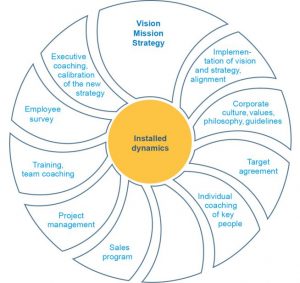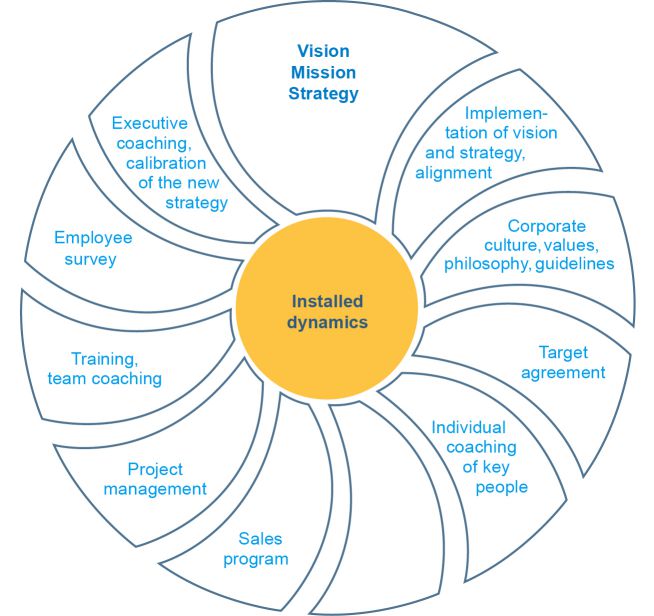 We design projects in strategic, organisational and personal development, where the dynamics are based on the forces of interlinked and consistent elements.
Based on potential analyses, we run team coaching, individual coaching and individual training activities.
We have coordinated staff and organisational development products.
We make use of the complementary views of our consultants to provide high-level, undogmatic collaboration.
We achieve a material, sustainable benefit through constructive and inspiring discussions with our customers.
We have over 25 years of experience in collaborating with organisations in industry, banking, trade, public administration and the non-profit sector.
We plan and implement your development projects.
Daimler AG
Getrag Getriebe- und Zahnradfabrik Hermann Hagenmeyer GmbH & Cie KG
Hengst GmbH & Co. KG
Schmitz Cargobull AG
Erwin Hymer Group SE
FAUN Umwelttechnik GmbH & Co.KG
Meyer Werft GmbH & Co.KG
GETRAG B.V. & Co. KG
fischerwerke GmbH & Co. KG
Reinert Kunststofftechnik GmbH & Co.KG
Kölle GmbH
Gutekunst GmbH
Coindu-componentes P/ Indústria Automóvel,SA
Schuler AG
Homag Group AG
Witzenmann GmbH
Bizerba GmbH & Co.KG
Maschinenfabrik Niehoff GmbH & Co.KG
Alpla Werke Lehner GmbH & Co. KG
Schroff GmbH / Pentair Inc. Group
Dieffenbacher GmbH & Co. KG
Profilmetall GmbH
Gläser GmbH
Liebherr-Aerospace Lindenberg GmbH
J. Schmalz GmbH
Zimmermann GmbH
IST METZ GmbH
FANUC Deutschland GmbH
Duravit AG
BASF SE
CHT R. Beitlich GmbH
Haselmeier GmbH
Zimmer MedizinSysteme GmbH
Gambro Dialysatoren GmbH
Wieland-Werke AG
Siegwerk Druckfarben AG & Co. KGaA
Maquet Cardiopulmonary GmbH
Proteros Biostructures GmbH
Baader Bank AG
LfA Förderbank Bayern
BayBG Bayerische Beteiligungsgesellschaft mbH
Bayern Kapital GmbH
Kreissparkasse St. Wendel
Volksbank Raiffeisenbank Itzehoe eG
Volksbank Lingen eG
Westerwald Bank eG
Verlag Herder GmbH
Verlag Kreuz GmbH
Madness GmbH
Duravit AG
Gebr. Märklin & Cie. GmbH
Bumüller GmbH & Co. Backbetriebe KG
Ensinger Mineral-Heilquellen GmbH
Vinci Facilities Deutschland GmbH
Georg Moll Tief- + Straßenbau GmbH + Co KG
ERNST² ARCHITEKTEN AG
Kreisbaugenossenschaft Kirchheim Plochingen eG
Kemmler Gruppe
Kemmler Industriebau
SAP AG
Topalis AG
Orianda Solution AG
idem telematics GmbH
Vorwerk Deutschland Stiftung & Co. KG
Theben AG
Otto Egelhof GmbH & Co.KG
STABIL GROUP International GmbH
Lapp Group / U. I. Lapp GmbH
Balluff GmbH
ebm-papst Mulfingen GmbH & Co. KG
ebmpapst St. Georgen GmbH & Co. KG
AB Elektronik GmbH
Hugo Brennenstuhl GmbH & Co.KG
Coccius & Partner Sozialpädagogische Projekte
Incovis AG
Dr. Knoell Consult GmbH
Peter Sauber Agentur Messen und Kongresse GmbH
knoell Germany GmbH
MSR familiy office
Isaria Corporate Design AG
Auswärtiges Amt
Goethe Institut
Hochschule Rosenheim
Stadtverwaltung Vaihingen / Enz
Universität Stuttgart, Institut für Umformtechnik (IFU)
Stadt Konstanz
Konzept-e für Bildung und Soziales GmbH
Jugendförderverein Zollernalbkreis e.V.
Alumni Verein der Rochus und Beatrice-Mummert Stiftung e.V.
KBF Neckalb e.V.
Ausbildungs- und Berufsförderungsstätte Albstadt e.V.
Gersprenz Seniorendienstleistungszentrum GmbH
Deutsche Schule New Delhi
RKW Baden-Württemberg
RKW Berater-Akademie
IHK Akademie München-Westerham
IHK Region Stuttgart
IHK Heilbronn-Franken
IHK Ulm
TAE Esslingen
DACH WERKSTATT Küpper GmbH